Do you find yourself searching for new remodeling ideas or apartment renovation designs? Owning an apartment means living in a space where you are able to sleep, eat, and work, in an inviting home. When you live in an apartment, you want to feel at home, and live in a place that offers safety and security. And if you are moving into a new apartment, you would like to live in a place that contributes to your happiness and functionality.
If you are searching for apartment renovations in San Diego or San Diego apartment renovations, you can simply contact McMillin Contracting Services. We at McMillin Contracting services take every project seriously and ensure to make your renovation process easy. You can hire our team of professionals to help with your apartment renovations. Hiring a renovation or general contractor to assist you with your home renovation project is the safest way to successfully remodel your home.
An apartment renovation is more than just cabinets and countertops, as you must consider a variety of factors in order to make your life easier. You can experiment with several apartment makeover ideas to improve its appearance. Consider these intelligent recommendations for your apartment renovations to make it more functional.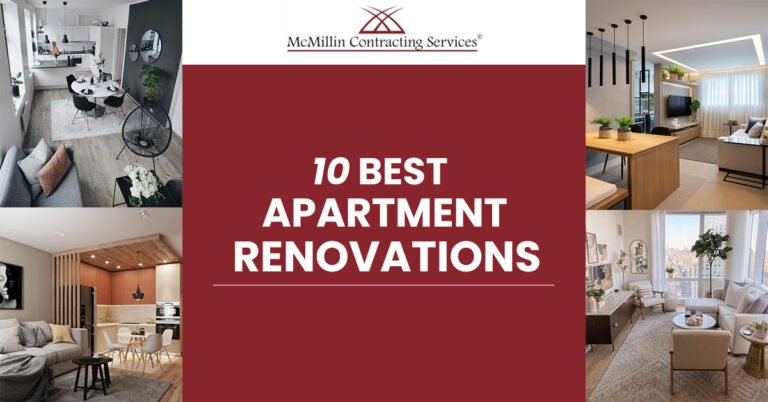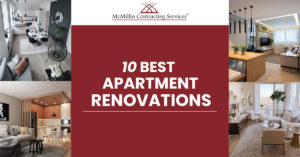 Mentioned below are a few ideas that you can use for your San Diego apartment renovation project:
Add a Functional Design Space
You must maintain a functional design of your apartment. No matter what style of apartment renovation you desire, you must ensure that it is built to remain functional so that you do not encounter any problems when the renovation work is completed.
Make Open-Space to Move Around Easily 
Choose a design that will not take up too much space in your apartment. It is necessary so that you have enough space to walk around your apartment without encountering any difficulties while living there.
Add Children Friendly Corners
Every family who comprises children or plans to have children must ensure that the apartment renovation ideas should be child-friendly. It means that you must keep any harmful or dangerous goods on higher ground, out of reach of children. You should also add children-friendly corners or areas where they can play and enjoy fun activities.
Add New Flooring 
You can now add new flooring materials that are easily available and are affordable. This enhances the look of your apartment providing you with a more modern and classic apartment design. You can choose from durable flooring materials such as hardwood, carpets, laminate floors, marble, and much more.
Add Stylish Wallpapers
Wallpaper is a simple way to improve the look of a room. It takes up valuable space and provides immediate texture, color, and pattern. Yes, it can be scary to utilize in the decor of a bedroom, which should be calm and serene or sensuous and passionate. The key, though, is to select a color palette and pattern that complements your style. If you like modern art, use bright colors. Try a natural texture if a Zen temple is your concept of a serene setting.
Add Low-Light Plants 
In the past few years, plants have become an important artifact for most homes. The right plant can bring your space to life, and also remove toxins from the air. Having plants enhances the beauty of your home, and works well for open-spaces that receive abundant sunlight.
Bring Down Walls To Add Space 
The best way to open up your apartment is by bringing down unwanted walls. Remove your unwanted walls during your apartment renovations, it is an affordable way to create airy and open spaces.
Redo Your Hardware
The simplest kitchen upgrades are sometimes the finest. Changing the hardware on your kitchen cupboards may make a big difference in the way your space looks with very little effort or expenditure on your part—and it's completely reversible. All you need is a set of budget hardware, a screwdriver, a plastic bag, and our team of trained professionals. Always remember to measure the width of the holes before you go to the hardware store to avoid returning with handles that are too big or too small.
Add New Windows 
Replace your old windows with large open-glass windows. Consider adding a sunroom if you have extra space and want to improve both the interior and exterior of your property. The architectural mystery of the sunroom extension beautifully captures the true essence of your apartment. Large glass windows flood the internal space with natural light and provide a clear connection to the outdoor eating area. The traditional glass patterns on windows compliment the apartment's classic form.
Add Modern Light Fixtures
You should get rid of your lights and appliances that consume a heavy amount of electricity. You should switch to new LED bulbs or lights that eliminate the dull yellow light with a warmer white light. These lights consume less electricity, are clearer, and are more efficient to use.
This brings us to the end of our list for apartment renovation ideas. There are just a few simple ways to improve the look of your home. You should have these apartment renovation ideas that will help improve the overall appeal of your home, a small change can make a great impact.
Are you still having difficulty deciding upon new apartment renovation ideas? Well, don't worry, simply reach out to McMillin Contracting Services, and we will be there to fix all your problems!77 Contact us now for apartment renovations in San Diego or San Diego apartment renovations.