Have you ever come across before and after pictures of apartment units in property magazines, newspapers, or online blogs? Are you looking to make changes to old apartment units and are in need of apartment remodeling services in San Diego?
Renovating multiple apartment units can be a difficult task, it requires resources such as effort, time, money, and planning. This is where McMillin Contracting Services comes in, we can help simplify your multiple unit apartment renovations. And if you're looking for new apartment renovation ideas for a successful project, we'll be there to guide you through every step.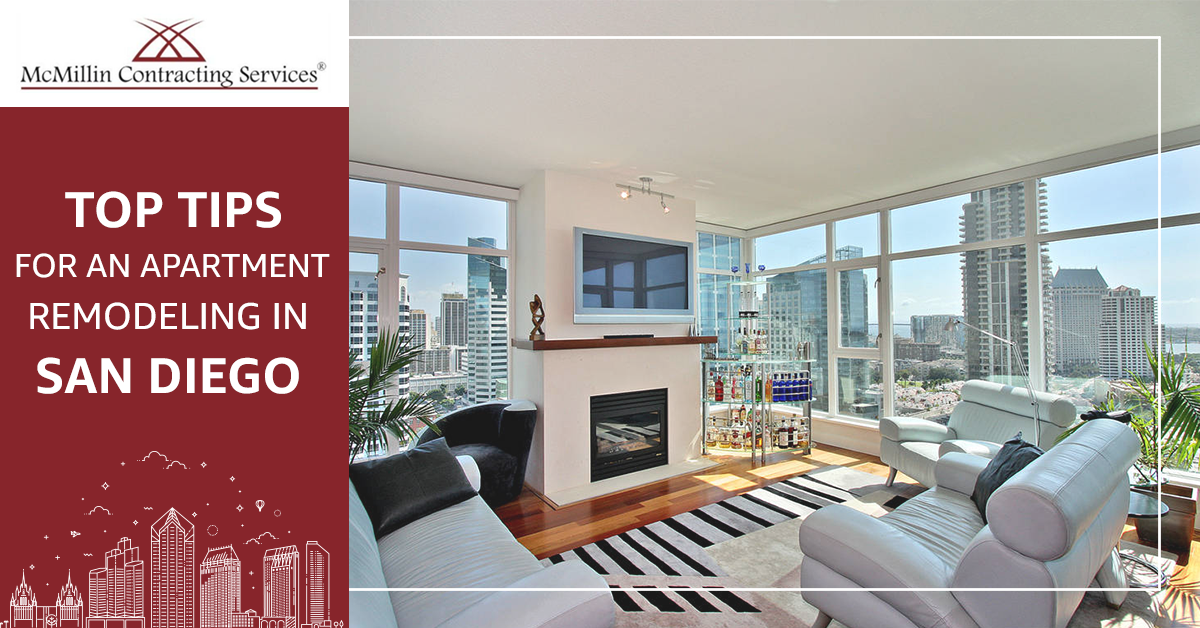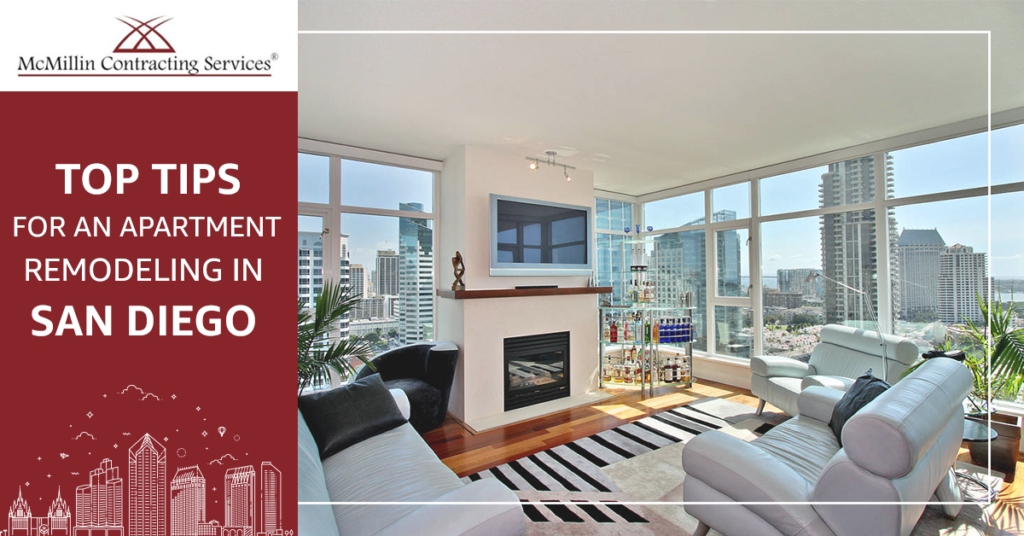 Top Tips for an Apartment Remodeling in San Diego
We'll go over everything you need to know before you start remodeling any apartment units, as well as how to avoid making costly renovation blunders. Are you eager to learn more? Here are four things to think about before embarking on an apartment remodeling project.
1. Organization is the Key!
When it comes to any kind of remodeling, it is important to have a goal and a task list in mind. While apartments are relatively smaller and easier to remodel, it all depends on the scale of the project. Keeping in mind all the variables, do your part by planning in advance and researching thoroughly about all likes and dislikes. Learn more about apartment ideas on the internet or by talking to professionals.
2. Follow a Budget
Once there is an idea of the complete apartment remodel, look into any finances. To save money on smaller projects it is best to hire a professional to handle most apartment remodeling projects like bedroom or bathroom remodeling, painting walls, installation of small shelves or cabinets, and more. The professionals can also help with any kind of demo work involving the kitchen or bathrooms. Always remember to get a quote from a company prior to hiring to keep your budget on track. Keep a track of your finances and try to spread out your remodeling project instead of trying to achieve everything in one go.
3. Have Achievable Plans
It's important to remember that an apartment is significantly smaller than a house, especially in a place like San Diego. Always keep the space in mind when planning remodeling projects. Prioritize minor projects such as your painting, lighting, and other items. Then move on to the other areas that take up more time, such as bathrooms and kitchens.
4. Hire the Right Contractor
If you are choosing the route of hiring a contractor or a professional, then be smart about it. Always look at their portfolios, reviews, and references. In big cities like San Diego, you will come across many contractors, so take your time to hire the contractors that fit you best, and weed out the unnecessary ones. Find the best one that suits your tastes and pocket.
These are just a few tips and tricks that will help with apartment remodeling plans. While the idea of remodeling sounds daunting, as long as you are organized and have a clear goal in mind, it will go smoothly. Remember to start small and then work your way through!
5. Open the Layout
The most important feature that most prospective renters look for in a new apartment is space. If you can cleverly create additional open space to make the apartment appear larger, the property value will instantly rise. When it comes to adding a room to an apartment, it might be challenging, but there is always a solution! People can always knock down a wall to bring the kitchen into the living room, which will help them create extra seating. A lighter tint on the walls also gives the impression of more space.
6. Set the Apartment Units
The daily routine of most people is disrupted when moving into a new place. Make sure to clear pathways for workers to enter and exit, as well as store away any fragile, breakable, or large goods safely out of the way. If you are renovating new apartment units and putting them up for sale, it is always a good idea to add pictures as potential buyers search for 'apartment renovations before and after pictures.'
7. Seek Help from an Expert
Seek expert advice before getting started on multi-unit remodeling projects in terms of design and planning for the project.
While making changes or renovations to apartment units always remember to stay one step ahead. Major renovations while updating any kitchen, bathroom, bedroom, or structural alterations require time.
Learn More About McMillin Contracting Services
Are you planning to start an apartment remodeling project in San Diego and need some help? You can call McMillin Contracting Service if you are a management firm or a property owner looking to renovate apartments in San Diego for a multifamily apartment remodel project.
McMillin Contracting Service is a general contracting company situated in San Diego that is committed to assisting and supporting the property owner and management industry