We all experience the impulse to make improvements to our old apartments at some point. Are you sick of the way your current apartment appears and want to make some changes or renovate the apartment? Now would be an excellent time to give it a makeover. Apartments are simple to remodel because they don't require extensive construction, and making simple changes isn't a problem if you're renting it out. One of the advantages of apartment remodeling is that due to the smaller space, it is easier to make changes. One of the most appealing aspects of apartment renovating is that, because apartments are much smaller than houses, it is a viable and cost-effective undertaking! Let's look at a few apartment tips and apartment remodeling ideas that will help every apartment unit get the perfect facelift!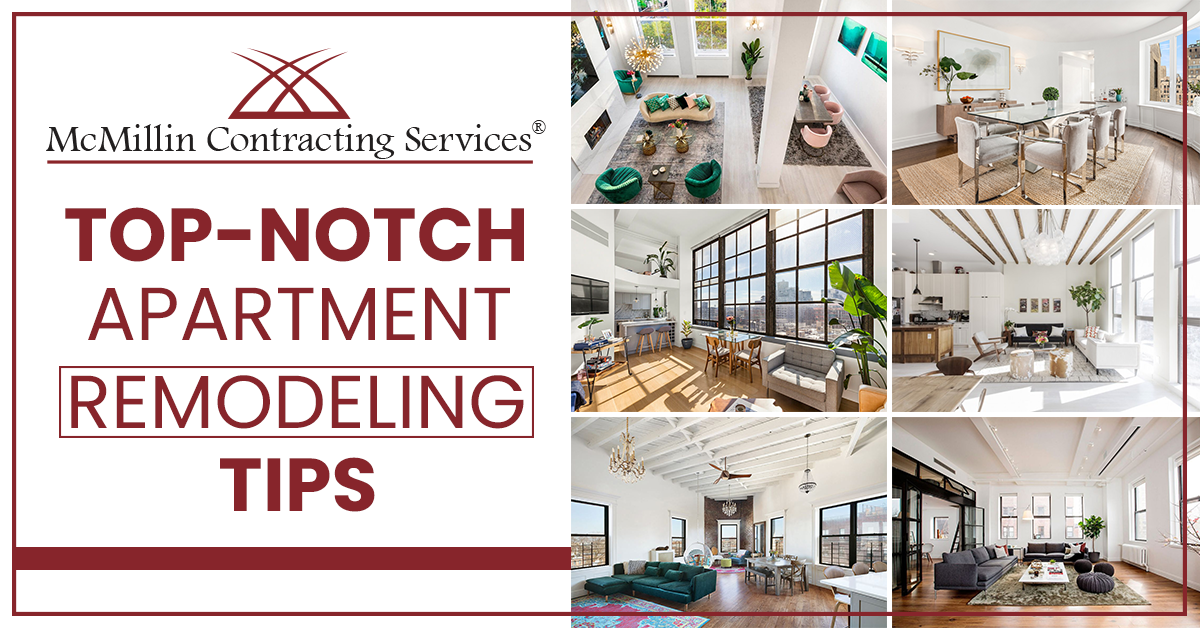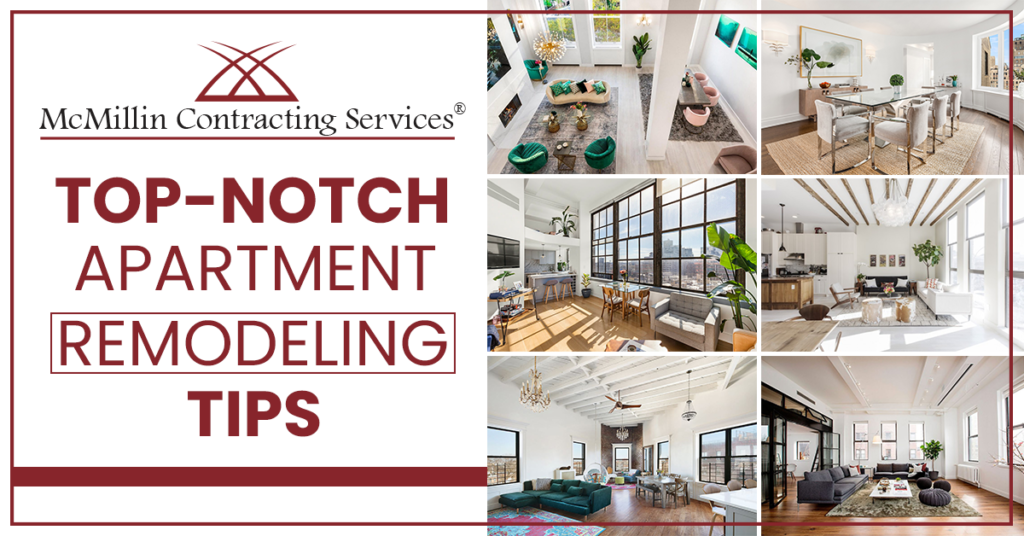 1. Create Space
One huge drawback of owning an apartment is the lack of space because after a while it can feel cluttered and chaotic. There are a few ways to create more space; simply go big and tear down an unwanted wall or two depending on your requirement. If you don't want to break the bank, then make small aesthetic changes like painting the walls neutral tones with light colors, adding glass windows, using brighter lights, or having a low seating arrangement. 
2. Check the Budget
One of the most important things to keep in mind is budget. While renovations projects are fun once the ball is rolling, it is important to keep all finances in mind. Work out the scope of the project, check the finances and then tackle all ideas accordingly. It is important to spread out the project to tackle larger projects like kitchen remodeling or plumbing-related changes. 
3. Add Space for Storage
Storage space is often an issue in apartments. There are smaller and more efficient ways to produce extra space than making major adjustments. Additional space can be created by adding shelving and smaller cupboards to the living room and bedroom. Invest in cubes, section separators, open shelves, and light wall colors to create sensible space in the kitchen. Reorganizing the kitchen can also aid in the creation of more space.
4. Bathroom Expansion
One of the larger projects to tackle during an apartment remodeling like the bathroom is often time-consuming and expensive. If it does not require a complete facelift, tackle smaller changes like the lights, tiles, cabinets, mirrors, and other basic necessities. If it needs to be completely renovated, then get rates from general contractors and choose from the option that suits you best.
5. Seating Arrangement
A simple seating arrangement can make a big difference to any apartment. Big and bulky couches or sofas end up taking a lot of space. Invest in smaller and multifunctional couches that use less space and are more economical. The living rooms are the center of socializing and are oftentimes small and congested. To give it a more spacious and more intimate feel, adding lower seating like sunken sofas, bean bags, chairs, and cushions make it look much larger. Creating circular seating also makes a difference. Instead of having a big seating, having smaller pieces of furniture will create more space and legroom.
6. Paint All the Way
Paint is the simplest and most cost-effective change that can be simply made during an apartment remodeling job. Freshly painted rooms appear more crisp and modern, which adds value. While choosing paint colors, remember that neutral tones are popular amongst most individuals. So go out and grab a few gallons of paint and get to work!
7. Add Low-Maintenance Landscapes
If the apartment or apartment units have attached balconies, add a few colorful plants and rocks to add curb appeal to any apartment. Include plants and shrubs that are native within the region, affordable, and easy to care for.
8. Reduce Energy Costs
All new residential apartment units should be devoid of energy-intensive lighting and equipment. Replace old bulbs or lights with modern LED bulbs or lights that emit a warmer white light rather than the bleak yellow light. These lights use less energy, are clearer, and are more energy-efficient.
9. Hire Professional Contracting Services
It's best to hire professional contractors to deliver high-quality work to renovate an apartment. A professional contractor will guide you at every step, from mapping the design to installing the latest equipment. McMillin Contracting Services will provide you with the best. 
10. Make Useable Space
There is a lot of unutilized space in apartment residences. Install pull-out cabinets in the dining room instead of a fixed cabinet to increase storage space. This is a wonderful alternative if you're on a tight budget. These are just a few apartment tips and tricks to help elevate that apartment space. Turn dreams into a reality, slowly but surely.
McMilln Contracting Services – What We Offer?
McMillin Contracting Services is a general contracting firm situated in San Diego that specializes in assisting and supporting the property management business. We are a three-generation family-owned and operated business run by an experienced Construction and Project Manager, and a Certified Property Manager (CPM).  If you are a management company or a property owner looking to renovate apartments in San Diego for a multifamily apartment remodeling project, contact McMillin Contracting Services.