Are you looking to make changes to any apartment complexes, and are looking for exterior remodeling or renovation services? Or do you require assistance with any remodeling projects? Well, consider any apartment renovation project as a business strategy or a one-of-kind business undertaking that you are embarking upon. An exterior renovation makeover can increase curb appeal and give any property a completely new appearance. These changes enhance the apartments exteriors and show how a property can transform from ordinary to extraordinary. 
In an attempt to improve the value of any property, here are some tips and tricks on how to attain a flawless renovation for any exterior renovation or home remodeling project, as well as some top exterior renovation ideas.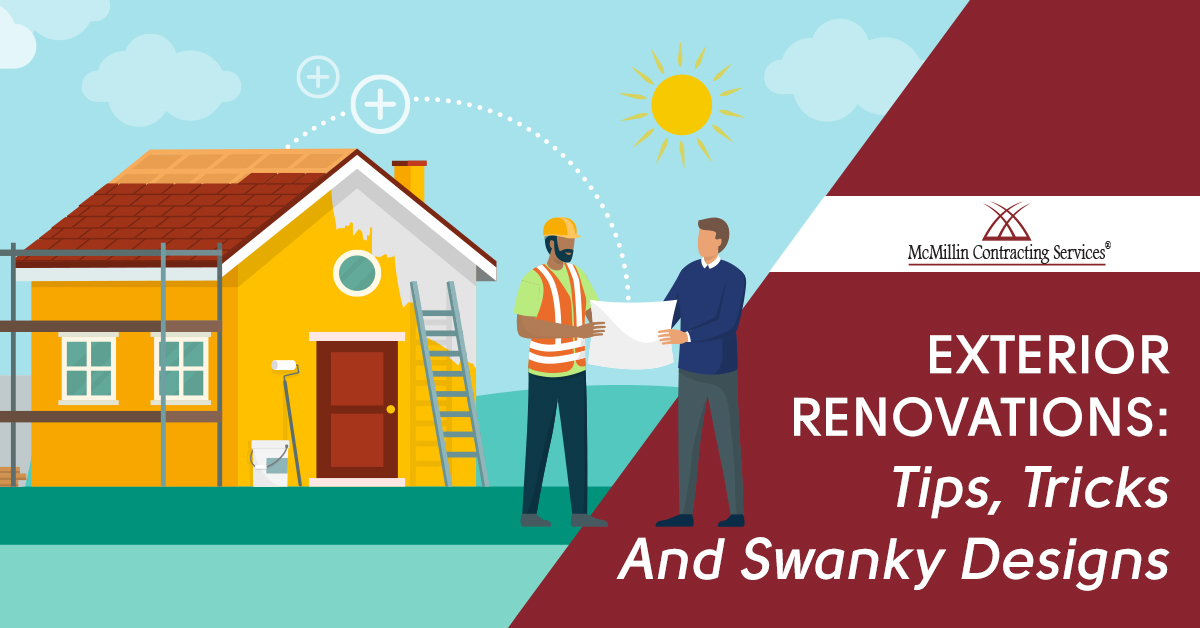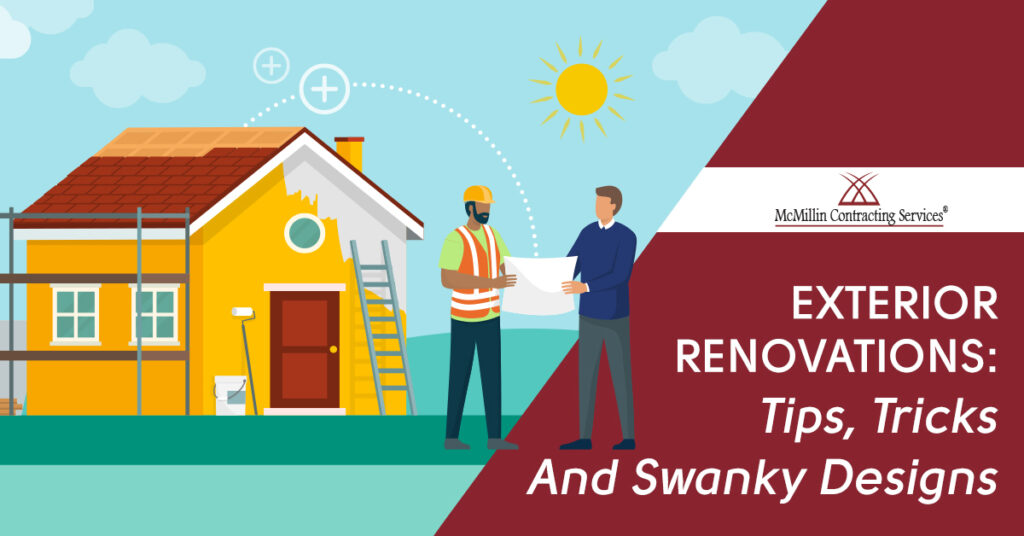 Some Significant Tips to Follow During Exterior Renovations
1. Plan, Plan, and Plan
Every exterior remodeling project, apartment remodel or office remodel necessitates proper and careful planning. Before beginning an exterior home remodeling project, remember to clarify the vision and mission. Take a glance outside the living areas exterior design styles to obtain some ideas for what the end objective could be. Then, decide which tools and supplies are needed to accomplish such objectives. You can always deal with contractors if some exterior remodeling projects require more technical issues, such as plumbing, roofing, wiring, or even different types of external siding. What matters is to have a thorough plan for the final product, as well as a list of all the probable methods to get there.
2. Have a Consistent Goal
Always have an assessment performed for any living space – whether you are selling or renting an apartment, or considering doing so in the future. Make sure the apartment is in good working order. Examine the walls, drainage, plumbing electricity, thermostats, pipelines, and other important features. Once you have compiled a list of necessary repairs and maintenance, prioritize them. For example, fixing malfunctioning drains and electrical units is more critical than making aesthetic modifications!
3. Keep a Check on the Bank Account
While the possibility of upgrading apartment units or complexes for sale may entice you, you must be practical. Assess all financial situations and then take on exterior improvements and remodels as needed. Instead of breaking walls or redoing entire kitchens, hire a professional contractor who can assist you through the process while staying within the required budget.
4. Research All the Way
When planning for an exterior remodeling project or an apartment renovation, you'll be surprised at the number of available options. The gorgeous light in a luxurious store can also be found elsewhere at a lower cost. So, if you're remodeling an apartment on a budget, bear in mind that when you research, you'll find that most of the items, such as furniture, paint, lights, and other decorations, can be purchased at lower and more affordable prices. To explore how far you can stretch your budget, try online shopping, thrift stores, and furniture stores. Always follow a consistent guide on how to renovate any apartment stylishly while staying under budget with the help of our expert apartment renovation contractors.
To improve the curb appeal of any living space remember to ensure that every first impression is pleasant. This is extremely important when trying to increase the entire value of any property. The key to a successful exterior apartment renovation is having a strong strategy that others can benefit from. Take the time to establish the desired outcome as well as the steps required to achieve them. 
Ideas To Think About Before Beginning The Exterior Renovation Process:
1. Landscape with a Budget
If you're looking for exterior renovations ideas that will make the apartment more green and colorful, keep the budget in mind. If you don't have a large budget, hire remodeling contractors in San Diego who can install windows boxes, rockscapes, succulents, a fairy garden, and help add other outdoor features.
2. Re-paint the Outdoors or Sidings
It is critical to restore any property's paint or siding as soon as possible if it appears to be chipped or faded. It will give the outside a tremendous facelift and charm. Change the cladding material used on the outside of the property to fresh trendy designs. That will give the property's exterior a much-needed makeover!
3. Remodel the Driveway or Parking Lot
Many people and property owners neglect to renovate or resurface driveways,  pathways, or parking lots. When people visit a property, the driveway or pathway is the first thing in sight. A driveway with cracks or holes does not provide a good first impression. While a complete replacement isn't always essential, a fast repair might help enhance the driveways look. If you want to develop a parking lot on a commercial property, you must follow the proper guidelines without sacrificing the safety and space. While remodeling a parking lot consider the layout and parking flow, safety of pedestrians, and all concrete maintenance solutions.
4. Change the Front Windows
Make changes to the front windows, and choose from a variety of collections to give the property a more appealing appearance. A living space with damaged, worn-out, or faded windows might detract potential buyers from its overall appearance. Repaint the windows with brighter colors, replace them with glass windows to give depth, or build a bay garden window to improve the condition. In comparison to apartments with beaten-down windows, any property with bright front windows shines out.
5. Hire a General Contractor
If you choose to hire a contractor or a professional, be sure to do it carefully. At all times, look over their portfolios, reviews, and references. In big cities like San Diego, you'll come across a lot of contractors, so take the time in choosing the ones who best fit your demands and weed out the ones who don't. Choose the best option based on your preferences and budget.
This brings us to the end of our tips and ideas to follow for every exterior remodeling project. And if you don't have the time or skill to perform exterior renovations or remodeling to apartments or apartment units, and are in search of help for exterior renovations in San Diego – just give us a call. Contact McMillin Contracting Services for any exterior remodeling project that needs help!