Have you ever wondered about the process of apartment renovations or renovations in general? There are a few basic measures you can take to personalize your space, whether you live in a small apartment or a large two-story apartment complex. You're renovating to make your home more appealing to the eye and more comfortable to live in. Consider an apartment renovation project as a work strategy or a one-of-a-kind undertaking that you are embarking on with our apartment renovation contractors.
One of the finest methods to get the home of your dreams is by having a home makeover, and you achieve this with an apartment renovation project. If done properly, this apartment makeover will yield a lot of potential for new renters.. When mistakes are made, renovating an apartment can become both costly and unpleasant. So, what is the solution? Proper planning and preparation are required, which is where our step-by-step guide to an apartment renovation comes in. Hence, before you begin any endeavors, make sure to follow a few guidelines.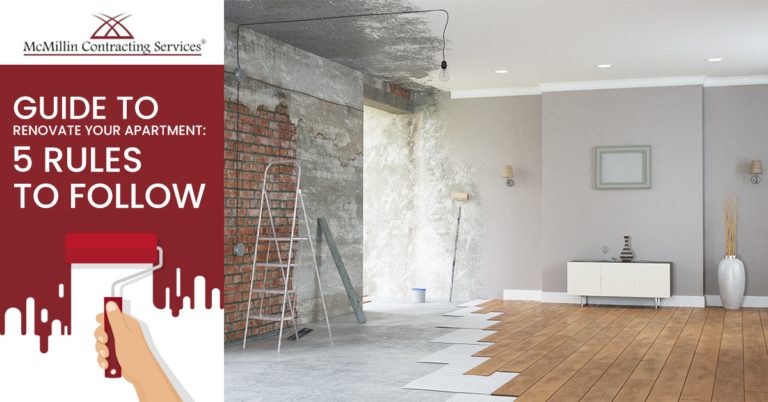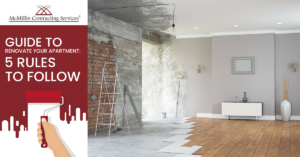 What Does An Apartment Renovation Contractor Do?
The difference between a builder and an apartment general contractor is very little. A builder is considered a general contractor and is responsible for the timely construction of the apartment renovation project. This person can hire out or lease out a subcontractor who would be responsible for certain parts of the project such as plumbing, flooring, or electrical. The sub-contractor would then be responsible to the general contractor. The general contractor is ultimately responsible for all final tasks.
As mentioned earlier, you always plan ahead to create an apartment  tenants will love. If you are looking to renovate the apartment then you should attend to the larger aspects and the finer details. You can apply an effective strategy to the apartment renovation project to create a simple renovation plan for every room in the apartment. Here is a simple guide you can follow before beginning the apartment renovation process:
Plan A Budget
Apartment renovations can become very costly, so you should always plan a fixed budget for any renovation projects. Since you are looking to repair apartments on a fixed budget, you must first determine your total spending requirements. When budgeting, bear in mind that you should never go over your budget; instead, always maintain a lower budget and purchase the items you require.
Research Thoroughly
Once you begin researching apartment renovations, you will be shocked at the number of possibilities available to you. The lovely light you saw at an extravagant store can also be found for a reduced price somewhere else. So, when you're remodeling apartments on a fixed budget, keep in mind that if you investigate well you will discover that most of the goods such as furniture, paint, and other decorations can be found at a cheaper and reasonable rate. Make use of online shopping, thrift stores, and furniture stores to see how far you can stretch your budget. And with the help of our trained apartment renovation contractors, you can follow a consistent guide on how to renovate any apartment tastefully while staying within budget.
Renovate Your Small Rooms
You should always renovate the smaller spaces or rooms in any apartment. Taking down unused or unnecessary walls to add space and create an open-layout plan will make the apartment appear larger and make it more attractive. By having such open spaces the large glass windows will flood the internal space with natural light and provide a clear connection to the outdoor spaces.
Create Natural Lighting
If you have extra space and want to improve both the interior and exterior spaces, consider adding new windows. Large windows and architectural essence will beautifully capture the actual character of the apartment. Large glass windows bring natural light into the interior space and provide a direct connection to the outdoor dining area. The classic design of the flat is enhanced by the glass patterns that are engraved on the windows.
Upgrade Your Floors
If you are looking to upgrade the floors of a new apartment then you should consider flooring materials that are easily available and are affordable. You can choose from durable flooring materials such as harwood, caperts, laminate floors, marble, and much more. If an apartment's carpet or floors are in need of some TLC, and you have some spare cash to spend on a repair project, you might want to consider replacing them. New flooring can make an older apartment feel like it's brand new, so it's worth thinking about.
Mentioned above are a few points you can implement in any apartment renovation project. Paint a whole picture of what you want, and then renovate each component of the apartment one by one. McMillin Contracting Services will be there to help you every step of the way, contact us now to get started on new apartment renovation projects!
What Should You Hire McMillin Contracting Services?
At McMillin Contracting Services, we are proud to be knowledgeable about apartment renovations, and we are always happy to help you with apartment renovation projects. Our team consists of trained and certified trainers who are dedicated to assist you, and will help you with transforming apartments into your dream homes for anyone.