Are you looking to hire a professional for a remodeling project? Or are you in need of a general contractor for your next remodeling project? Well, McMillin Contracting Services is the perfect fit for you, and your next big or small project. Whether you're looking to remodel, increase safety, or improve the aesthetics of your home. Our team delivers exceptional project outputs in a professional and timely manner, whether it's a little upgrade like windows or a total balcony repair in San Diego. To learn more about our services, contact us today. 
Read on to learn more about getting started on any remodeling project. Plus, learn about hiring the best professional for the project.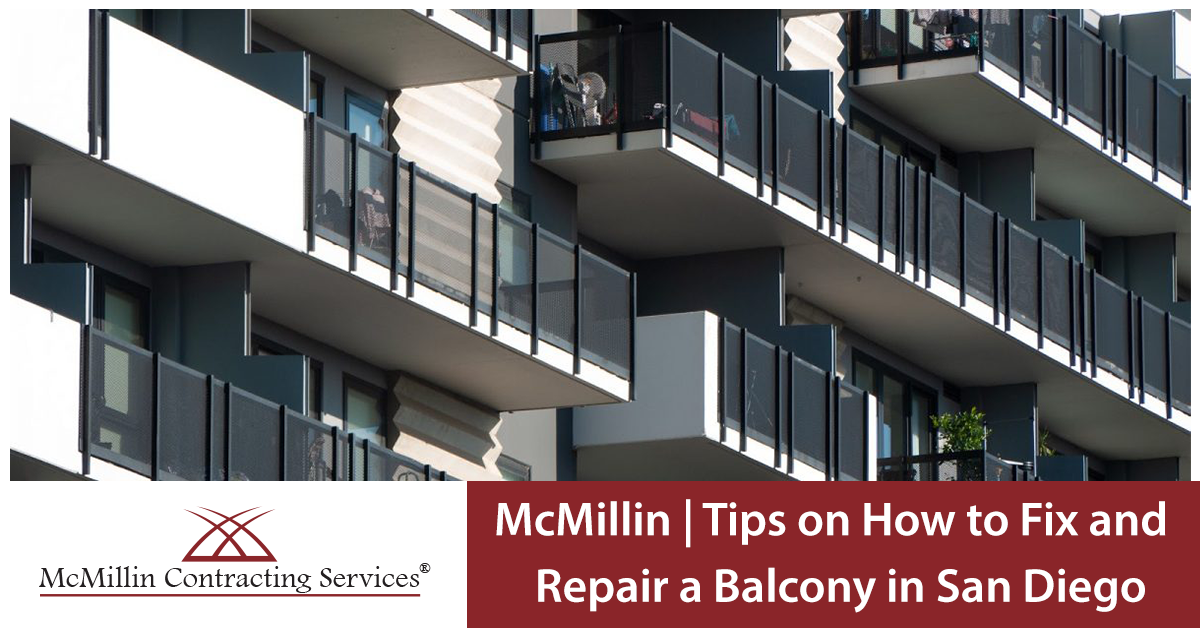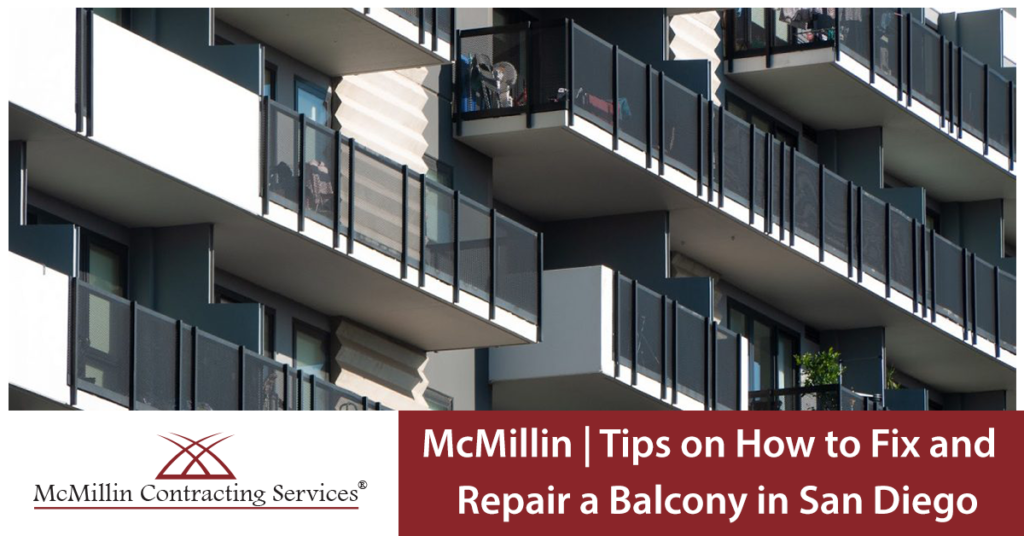 What is the Role of a General Contractor?
When hiring a general contractor, always be upfront for what you want and what you're looking for. Make sure to check for all licenses and certifications before hiring any contractor for a remodeling job. A general contractor is responsible for supplying all materials, equipment, and services required for a balcony renovation. A general contractor will use his or her network to find the best subcontractors for every specialized job. A qualified general contractor will manage every aspect of your project, from managing the construction site to dealing with contractors and suppliers.
Ensure the Job is Done Correctly
It takes a lot of planning, investment, and time to make repairs or modifications to an apartment complex or unit, so contact a skilled contractor to complete the work. If you want to avoid complications in the future, make sure the apartment remodeling job is done correctly the first time.
Are you looking to hire a general contractor for your next remodeling project? And don't know who to hire? Well, here is a checklist to follow while hiring a contractor:
Experience and expertise in the workplace
Documents that are licensed and certified
Positive feedback and online reviews
A customer service that is responsive
Insurance with a flexible schedule
And much more!
Also Read: Balcony Repair in Just 6 Easy Steps | McMillin
Now that you've learnt about the importance of hiring a general contractor, let's look at some important points to consider while repairing a balcony in San Diego. 
Most apartment units or complexes include balconies which may be it's top selling point. Any apartment's outdoor living area or balcony is one of the best spots to see the ideal sunset, relax, meditate or simply read. Most balconies are ten to fifteen feet in the air that offer phenomenal views. Having a balcony is extremely enticing because it offers outdoor seating areas and a glimpse of the city. Balconies always bear the most spectacular views; whether it is raining, snowing, or a bright day.
Overtime, balconies might develop cracks, ridges, chips, stains, or blemishes, especially in the surface that is most walked over. This deterioration and degradation takes place overtime and is not only unsightly, but it can also be extremely unsafe. Therefore, concrete steps, stairways, balconies, and other similar pathways should be repaired immediately. And if you are in need for a balcony repair or balcony renovations in San Diego, McMillin Contracting Services is the perfect fit for you, so contact us today.
Here is a guide explaining the many stages and steps taken to fix a balcony:
Examine the Affected Area and Make Any Necessary Preparations
Before you start repairing the damaged area, make sure to clean it well, remove any debris, and then start the rebuilding procedure. Scrub the afflicted area with a wet wire brush after sweeping away any fractured concrete particles. When repairing concrete surfaces, keep the size of the fracture in mind.
Work Slowly & Steadily, Starting at the Corner
When repairing a chipped or damaged balcony, start at the corners and work your way out to ensure the patch stays in place.
Put All the Materials Together
The various materials required to repair concrete surfaces are made on the basis and amount of the chips, gaps, fissures, and cracks on the balcony's surface. A concrete patching compound may be all that is required to fix minor sections with cracks and chips. For larger fractures, holes, or structural damage, quick setting cement may be required.
Start the application procedure.
To begin, moisten the surface with water and use a trowel to apply a layer of concrete repair material. After that, pour the concrete mix over the holes or structurally damaged regions with a square head shovel. Then, using a trowel, smooth out the filled holes. Use two trowels, one for leaning and the other for dealing with the concrete components.
Complete the Task
Finally, apply a second coat if necessary to complete the process. Check to see if the concrete has settled, is smooth, and has a finished appearance. Brush the surface with a masonry brush, and remember to curve the sharp edges.
Allow Time for It to Dry
Allow the restored surface and concrete material to dry after completing all of the preceding stages. It could take up to 24 hours or more for this to happen.
After learning about the steps to fix a balcony, let's look at some indications of a deteriorating balcony.
The following are some evident signs of balcony damage:
Stains on balconies or decks from the inside and outside
Water leaks through windows, doors, or side rails
Wooden windows and doors swell up, making it harder to open and close them
Paint being chipped or flaked off in the corners
Softening, splitting, and decaying wood
Deteriorated balcony pillars and rails with frail connections.

Also Read: 8 Things to Know About Exterior Remodeling
Begin working upon that balcony repair now to minimize extra costs and additional expenses. Follow the procedures above to avoid any mishaps. When it comes to balcony repair or replacement, it's advisable to contact and hire a general contractor for the job.
Choose McMillin Contracting Services
For expert guidance on any balcony repairs, interior renovations, or exterior remodeling projects, contact us today! Our team of professionals will be happy to serve you and finish the job in no time. Wait no further, call us on 619-768-1471! To learn about the services we provide and offer, visit https://mcmillincontracting.com/